Currently viewing the tag: "Paris"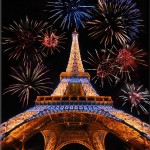 My hotelroom is tiny. Still, it has balcony (diminuitive) and when I stand there, if I lean over, I can see the Eiffel Tower.
After classes, I come here, take a shower and turn on some French music television and sit on my tiny bed, going over my notes. Exhausted. Missing my kids. And excited […]
Continue Reading

→
There are days where I am just a fat, middle aged, boring, tired woman from Surburbia, Denmark whom someone once fired. (No, I am still not over it. I am not deliberately hanging on to it, I am just still really mortified that someone could fire ME. Me, you know?)
And then there are days […]
Continue Reading

→
He told her that he loved her. Then he didn't call her. Was he overwhelmed by the strength of his emotions? Did he have second thoughts? After weeks of guessing and unable to get through to him, she decided to get over him.
Coincidentally, there was an advert in the newspaper, looking for a maid […]
Continue Reading

→