Currently viewing the tag: "Delish"
It is late August and hence time to harvest some of all those zucchini and tomatoes (that you can buy at the supermarket!).
You need:
1 large zucchine or 2 small ones or a million tiny ones As many zucchini flowers as you have the nerve to pick 4 large tomatoes 1 red bell pepper […]
Continue Reading

→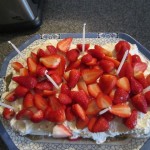 Feeling fragile? Here is the recipe for my very favorite cake in the world. Now, usually, I'm a "screw-fruit-and-bring-out-the-chocolate" kind of person but this cake just has it all: Dead-easy to make, looks like a million dollars, tastes heavenly and can be made well in advance for a lot of people.
You need:
(Serves ca. […]
Continue Reading

→
Thai Week, Part Two!
We can't have Thai week with out some coconut-milk-dish!
You need:
2 cans of coconut milk
600 grams of turkey breast or chicken
1000 grams of mixed veggies (I've used squash (zucchini) and bell peppers (NEVER the green ones, they should be banned.) You could also use broccoli,  string beans […]
Continue Reading

→