Currently viewing the tag: "Dessert"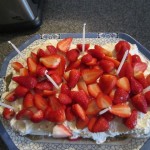 Feeling fragile? Here is the recipe for my very favorite cake in the world. Now, usually, I'm a "screw-fruit-and-bring-out-the-chocolate" kind of person but this cake just has it all: Dead-easy to make, looks like a million dollars, tastes heavenly and can be made well in advance for a lot of people.
You need:
(Serves ca. […]
Continue Reading

→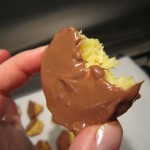 Having company over? Need to whip up something that takes 5 minutes to make and will be ready to serve in, say 20 minutes?
Try these coconut macaroons. They're delicious! These were made with the help of my 6-year old. Eggshells and all! That's how easy it is!
You need:
50 g/1,8 Oz of butter […]
Continue Reading

→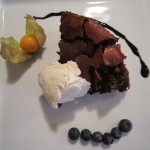 If you are only going to use one brownie recipe in your entire life – let this be it. (Thank you, Morten Heiberg!!)
It will give you the most moist, sticky, chocolaty, gewy, rich, wonderful and – well, fattening cake you have ever tasted.
A little of this goes a long way! (Like the Sailor […]
Continue Reading

→