From the monthly archives: January 2014
I was to be the rock they could lean on. When the message came I crumbled into snot and tears and sobs and this rock was made of sand and foam.
They say that when you go to get a diagnosis for something, which they suspect might be complicated; you should bring a person to […]
Continue Reading

→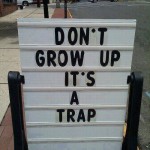 When I was in 6th or 7th grade, I was coming out of the deep end of the water and slipped into my mother's dressing gown, which I had borrowed because it was so soft.
Towards me, from the other end of the pier, came my friend's mother. As she came closer, she exclaimed: "Is […]
Continue Reading

→
I wrote something else in this post and published it.
I re-read it days later and it all sounded horrible. Almost bitter. Negative, for sure.
Forgive me and allow me to try again.
THIS is what I think people would say if they were REALLY telling the […]
Continue Reading

→