Currently viewing the tag: "Healthy"
It is late August and hence time to harvest some of all those zucchini and tomatoes (that you can buy at the supermarket!).
You need:
1 large zucchine or 2 small ones or a million tiny ones As many zucchini flowers as you have the nerve to pick 4 large tomatoes 1 red bell pepper […]
Continue Reading

→
I just ate this for dinner and it was delicious!
I thought I'd share:
You need:
Olive oil Half a head of pointy cabbage 1 zucchini and as many zucchini flowers as you can get your greedy little hands on 1/2 cup cashew nuts 2 cloves garlic Oyster sauce, […]
Continue Reading

→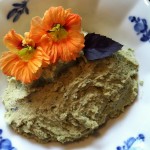 Chickpeas have a rather bland flavor, yet with a subtle underlying note of nutty-ness. This means that the little peas are very good at taking the flavour of something else.
Now, while the classic recipes for hummus calls for tahini (sesame paste) and often also Middle -Easterne spices such as cumin, I just go with […]
Continue Reading

→