Currently viewing the tag: "Overrated"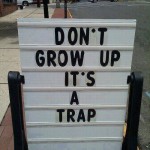 When I was in 6th or 7th grade, I was coming out of the deep end of the water and slipped into my mother's dressing gown, which I had borrowed because it was so soft.
Towards me, from the other end of the pier, came my friend's mother. As she came closer, she exclaimed: "Is […]
Continue Reading

→
It's here. Winter. So is my depression. 
I do like the days where sparkly crystals of snow reflect the light from a clear blue sky that seems endless; the smell of wood burning and the crunchy sound the snow makes when you walk on it. Being really cold from a snow ball fight until you […]
Continue Reading

→